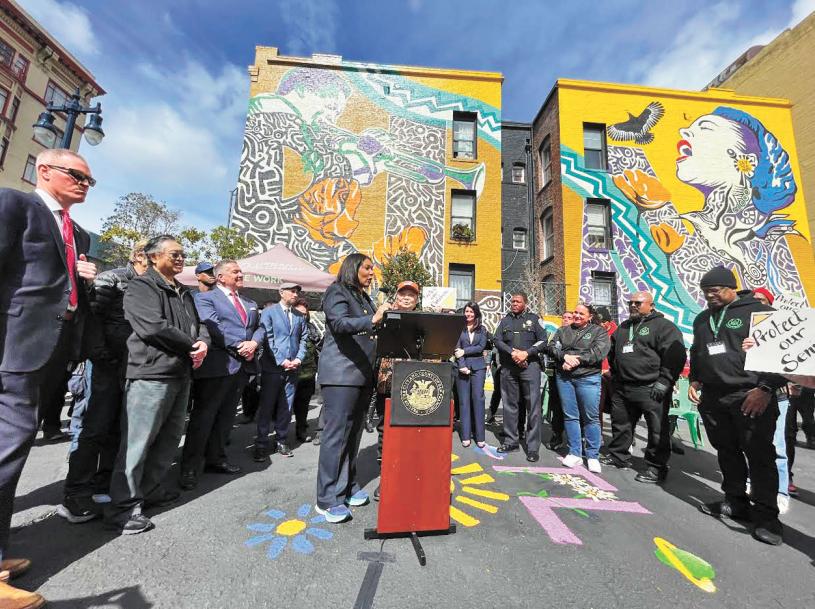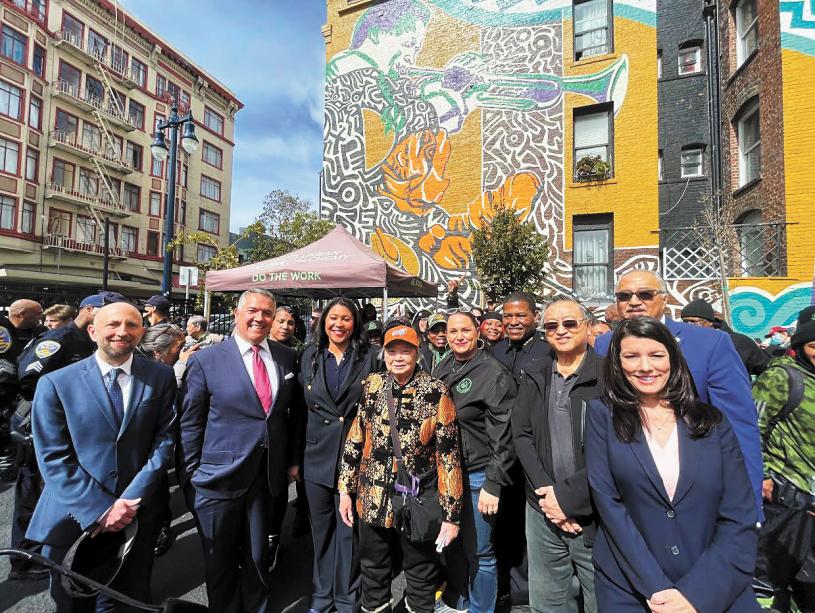 布里德市長與多位市參事和菊姐合照。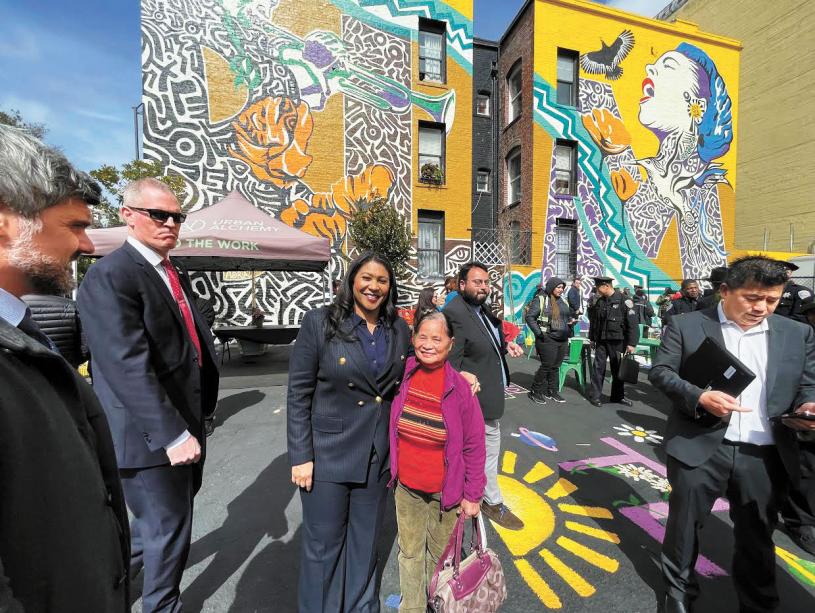 布里德市長與社區民眾合影。 Public Safety By Mayor London?Breed My fellow San Franciscans, I hear from residents, workers and small businesses that public safety is top issue in our City. People don't feel safe, and that is the reality. That is why this past Tuesday, I joined communities from Chinatown, SoMa, the Sunset, Tenderloin and other parts of the City at a rally in calling for support for key public safety initiatives to help maintain police services, support retention and recruitment of police officers, increase prosecution of open-air drug dealing, and extend alternatives to policing through community ambassador programs.?? The four specific actions called on were:? Fund Overtime Immediately to ensure officers can continue making arrests around drug dealing, break-ins, retail theft, violent crime, and to be able to respond to calls for service.? Strengthen Retention and Recruitment strategies to prevent further loss of officers and build back up our ranks over the long-term.? Increase Prosecution of Open-Air Drug Dealing by adding more prosecutors to the District Attorney's Office dedicated to fentanyl dealers.?? Continue Ambassador Program in the Tenderloin and Downtown areas to ensure our streets are welcoming for residents, workers, and visitors.? Fund Overtime: Budget Supplemental? The $27 million supplemental will ensure the police have the funding necessary to continue to meet current levels of service. This includes the ability to investigate and curtail drug dealing and illegal use of narcotics, reduce gun violence, homicides, and violent crimes.?? Importantly, this supplemental prevents mandated service cuts and a hiring freeze. If this supplemental does not pass, the Controller will be required to freeze hiring and overtime spending through the end of the fiscal year in June, which will significantly reduce policing levels across the City.? Thank you again to those who came out to the rally in support of this funding, this item has been scheduled at committee meeting, and we will continue to push the Board of Supervisors to pass these important funding sources for police and police alternative measures. And thanks to co-sponsors Supervisors Catherine Stefani, Rafael Mandelman, Matt Dorsey, and Joel Engardio.? Strengthen Retention and Recruitment: New Police Contract? As part of the City's work to address its severe police staffing shortage, I introduced legislation this past Tuesday to adopt the ratified contract with the San Francisco Police Officers Association that is a significant step in retaining and recruiting police officers.?? Sworn staffing levels have fallen precipitously in the last three years and San Francisco is now 331 officers lower than in 2019 and 541 officers below the staffing analysis recommended level; many are eligible for retirement. The new Police Contract Agreement will help stop the outflow of experienced officers leaving San Francisco by including significant retention bonuses. It will also help recruit new officers by making San Francisco the highest paid starting salary in the Bay Area while also adding incentives for officers looking to transfer from other jurisdictions. The agreement also supports officers and their families by including childcare support in circumstances where officers get called in for mandatory overtime, called back to work, or held over schedule.??? Increase Prosecution of Open-Air Drug Dealing: DA Supplemental? I also introduced a companion piece of legislation to the Police Overtime Supplemental that provides nearly $200,000 supplemental funding for three additional prosecutors in the District Attorney's Office who will focus on open air drug dealing. This will bolster the DA's aggressive efforts by expediting additional resources.? Since District Attorney Jenkins appointment and election in 2022, the filing rate for narcotics sales cases in San Francisco went up to 90% from 75%. Additionally, the City saw an 84% increase in felony narcotics arraignments (July 2022- Feb 2023 vs same time period for previous administration).? 525 felony narcotics sales cases filed compared to 290 for the same time period as the previous administration.?? 430 individuals were arraigned for felony narcotics compared to 234 for the same time period as the previous administration.? Continue Ambassador Program in the?Tenderloin and Downtown:?Contract Extension? In January, I introduced a contract extension for two ambassador programs: Urban Alchemy?that covers the Tenderloin and Mid-Market areas and the Welcome Ambassadors that cover Downtown and tourist areas. Both of these programs have created positive change in the areas they are located. Urban Alchemy has been an asset for the community, serves as an alternative to policing, and has helped bring stability to some of our most challenged streets.?? The Welcome Ambassadors are an essential part of our Downtown and tourism recovery. They support visitors, workers, and residents, and help make conventions at Moscone Center a success. They've received incredible, consistent feedback about the positive impact they are having. ? Right now, we have a lot of work to do to stabilize law enforcement in the long-run, while continuing to provide the basic services right now through both having police officers on our streets, but also alternative solutions working alongside them through our Ambassador programs. Neighborhoods across the City are asking for resources, and we will be aggressive to answer their call. Please add me on WeChat for updates and resources: londonbreed. Sincerely, London N. Breed Mayor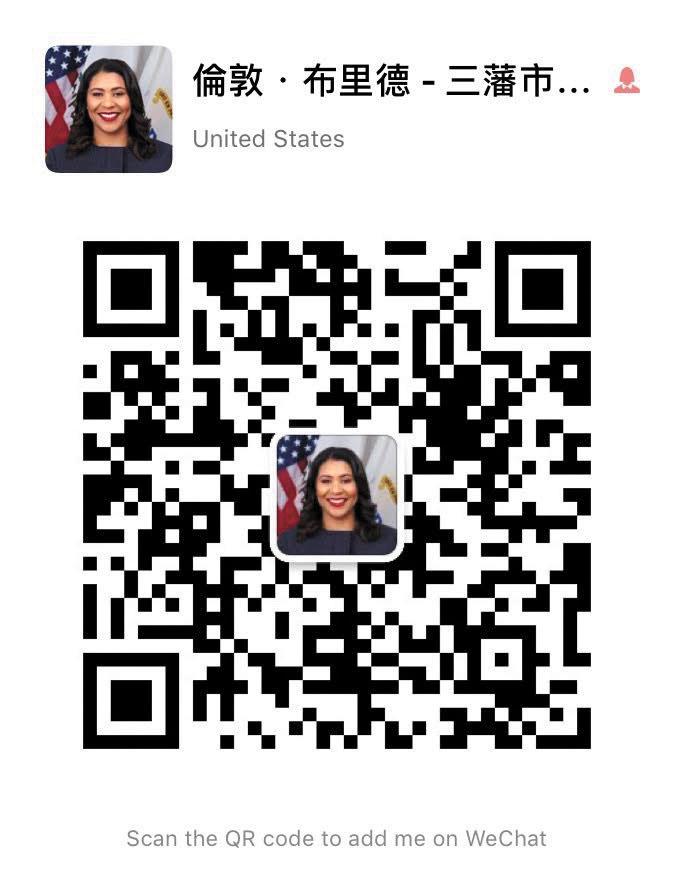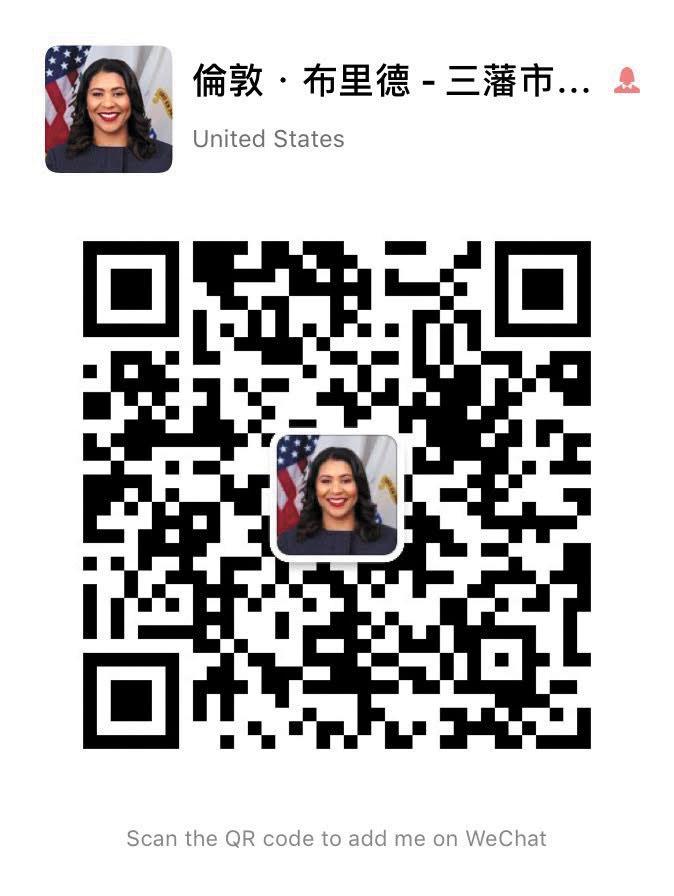 親愛的讀者們:
居民、上班族和商戶都常說到公共安全是市內的首要問題。 而現實就是大家都感到不安全。亦正因如此,我與來自華埠、南市埸區、日落區、田德隆區和多個社區共同呼籲支持幾項重要的公共安全倡議,以幫助維持警察服務,支援保留和招募警員,增加對露天毒品交易的起訴,並透過社區大使計劃擴大非警務的替代方案。
呼籲的四項具體行動是:
立即提供加班撥款,以確保警員可以繼續應對毒品交易、入屋爆竊、零售盜竊、暴力犯罪進行逮捕,並能夠應付電話求助。
加強留用和招聘策略,以防止進一步流失警員,並長期鞏固警隊。
透過在地區檢察官辦公室增加專門負責處理毒品芬太尼銷售案件的檢察官,增加對露天毒品交易起訴。
繼續在田德隆區和市中心地區開展大使計劃,歡迎居民、上班族和遊客。
加班撥款:補充預算
2千7百萬元的補充撥款將確保警方擁有繼續滿足當前服務水準所需的資金。 這包括調查和遏制毒品交易和非法使用毒品、減少槍支暴力、凶殺和暴力犯罪等的能力。
重要的是,這補充撥款可以防止強制性的服務削減和招聘凍結。 如果這項補充撥款不獲通過,主計長將被要求在6月財政年度結束前凍結招聘和加班支出,這將大大降低巿內警務水準。
再次感謝那些前來支援這筆撥款的集會人士,這提案已獲得安排在財政委員會議程,我們將繼續推動市議會透過這些重要的資金來源,用於警察和非警務替代措施。 感謝支持提案的幾位市參事司嘉怡、孟達文、麥德誠及殷嘉立。
加強挽留和招募:新警察合同
作為解決警務人員嚴重短缺的一部分,上週二我提出了立法希望通過與三藩市警員協會的合同批准,這是在挽留和招募警員方面邁出的重要一步。
過去三年,警員人手急劇下降,三藩市現在比2019年少了331名警員,比警員配置分析建議標準少於541;而許多現任警員亦已符合退休資格。
新的警察合同協議將透過包括大量留用獎金來幫助阻止有經驗的警員離開三藩市警察局。 合同還將幫助招聘新警員,使三藩市成為灣區薪酬最高的起薪地方,同時也為希望有意轉往其他警區的警員留在三藩市,該協議還會支援警員及其家人,包括在警員強制加班和超時工作等提供育兒支援。
增加對露天毒品交易的起訴:地方檢察官補充撥款
我還在《警員加班補充案》提出了一項配套立法,為地區檢察官辦公室的另外三名檢控官提供近20萬元的補充撥款,專注於處理露天毒品交易。
自2022年地方檢察官謝安宜的任命和選舉以來,市內毒品銷售案件的控告率從75%上升到90%。 此外,與上季同期相比,聆訊增加了84%(2022年7月至2023年2月)。
起訢525宗嚴重毒品銷售案件,而上屆地檢處同期為290。
430人因嚴重毒品而被聆訊,而上屆同期為234人。
繼續在田德隆和市中心開展大使計劃:延長合約
在1月時,我提出為兩個大使計劃延長合同:涵蓋田德隆區、中市場地區、市中心和旅遊區。 這兩個計劃都給它們所在的地區帶來了積極的變化。
目前,我們有很多工作需要做好,以長期穩定執法,同時透過讓警察巡邏,以及透過大使計劃一同合作的方案,繼續提供基本服務。 市內各社區都正要求資源,我們將積極回應他們的訴求。
請在微信上添加我以獲取更新和資源:londonbreed。
敬安!
三藩市市長 倫敦.布里德
,c1
布里德市長日前召開記者會,呼籲市參事會通過為公共安全追加預算。多位官員以及華裔社區長者代表菊姐也有出席。
(英文原文)
Public Safety
My fellow San Franciscans,
I hear from residents, workers and small businesses that public safety is top issue in our City. People don't feel safe, and that is the reality. That is why this past Tuesday, I joined communities from Chinatown, SoMa, the Sunset, Tenderloin and other parts of the City at a rally in calling for support for key public safety initiatives to help maintain police services, support retention and recruitment of police officers, increase prosecution of open-air drug dealing, and extend alternatives to policing through community ambassador programs.
The four specific actions called on were:
Fund Overtime Immediately to ensure officers can continue making arrests around drug dealing, break-ins, retail theft, violent crime, and to be able to respond to calls for service.
Strengthen Retention and Recruitment strategies to prevent further loss of officers and build back up our ranks over the long-term.
Increase Prosecution of Open-Air Drug Dealing by adding more prosecutors to the District Attorney's Office dedicated to fentanyl dealers.
Continue Ambassador Program in the Tenderloin and Downtown areas to ensure our streets are welcoming for residents, workers, and visitors.
Fund Overtime: Budget Supplemental
The $27 million supplemental will ensure the police have the funding necessary to continue to meet current levels of service. This includes the ability to investigate and curtail drug dealing and illegal use of narcotics, reduce gun violence, homicides, and violent crimes.
Importantly, this supplemental prevents mandated service cuts and a hiring freeze. If this supplemental does not pass, the Controller will be required to freeze hiring and overtime spending through the end of the fiscal year in June, which will significantly reduce policing levels across the City.
Thank you again to those who came out to the rally in support of this funding, this item has been scheduled at committee meeting, and we will continue to push the Board of Supervisors to pass these important funding sources for police and police alternative measures.  And thanks to co-sponsors Supervisors Catherine Stefani, Rafael Mandelman, Matt Dorsey, and Joel Engardio.
Strengthen Retention and Recruitment: New Police Contract
As part of the City's work to address its severe police staffing shortage, I introduced legislation this past Tuesday to adopt the ratified contract with the San Francisco Police Officers Association that is a significant step in retaining and recruiting police officers.
Sworn staffing levels have fallen precipitously in the last three years and San Francisco is now 331 officers lower than in 2019 and 541 officers below the staffing analysis recommended level; many are eligible for retirement.
The new Police Contract Agreement will help stop the outflow of experienced officers leaving San Francisco by including significant retention bonuses. It will also help recruit new officers by making San Francisco the highest paid starting salary in the Bay Area while also adding incentives for officers looking to transfer from other jurisdictions. The agreement also supports officers and their families by including childcare support in circumstances where officers get called in for mandatory overtime, called back to work, or held over schedule.
Increase Prosecution of Open-Air Drug Dealing: DA Supplemental
I also introduced a companion piece of legislation to the Police Overtime Supplemental that provides nearly $200,000 supplemental funding for three additional prosecutors in the District Attorney's Office who will focus on open air drug dealing. This will bolster the DA's aggressive efforts by expediting additional resources.
Since District Attorney Jenkins appointment and election in 2022, the filing rate for narcotics sales cases in San Francisco went up to 90% from 75%. Additionally, the City saw an 84% increase in felony narcotics arraignments (July 2022- Feb 2023 vs same time period for previous administration).
525 felony narcotics sales cases filed compared to 290 for the same time period as the previous administration.
430 individuals were arraigned for felony narcotics compared to 234 for the same time period as the previous administration.
Continue Ambassador Program in the Tenderloin and Downtown: Contract Extension
In January, I introduced a contract extension for two ambassador programs: Urban Alchemy that covers the Tenderloin and Mid-Market areas and the Welcome Ambassadors that cover Downtown and tourist areas. Both of these programs have created positive change in the areas they are located. Urban Alchemy has been an asset for the community, serves as an alternative to policing, and has helped bring stability to some of our most challenged streets.
The Welcome Ambassadors are an essential part of our Downtown and tourism recovery. They support visitors, workers, and residents, and help make conventions at Moscone Center a success. They've received incredible, consistent feedback about the positive impact they are having.
Right now, we have a lot of work to do to stabilize law enforcement in the long-run, while continuing to provide the basic services right now through both having police officers on our streets, but also alternative solutions working alongside them through our Ambassador programs. Neighborhoods across the City are asking for resources, and we will be aggressive to answer their call.
Please add me on WeChat for updates and resources: londonbreed.
Sincerely,
London N. Breed
Mayor